Gold Race is a line of very high quality products that are able to make the difference in all situations and competitions.
Bottom brackets, pulleys, kit of bearings for wheel hubs, compatible with all solutions on the market.
By studying and using special metal alloys, we have been able to reduce the friction forces generated by all bicycle rolling parts, and therefore to increase the smoothness and the energy saving.
The durability has significantly increased too. Every single ball bearing has been designed to carry weights 5 times heavier than traditional ball bearings. This enables a better sealing and durability.
If properly used, bottom bracket durability can be three times longer than a traditional bottom bracket. This allows us to offer a two-year guarantee period on all our materials although they are considered "consumables".
After several worldwide success on a professional level, the Gold Race brand is finally available for everyday cyclists.
The combination of high-performance stainless steel and electrolytically treated ceramic, a better geometry of raceways and bearings and a new idea of sealing that is able to reduce friction to almost zero bring crucial benefits:
– unprecedented smoothness;
– increase in performance;
– considerable increase in reliability;
No special maintenance is required, except for care and attention usually paid to this type of product. Cleaning with a pressure washer directly in contact with ball bearings should be avoided.
Go to one of our points of sale to see with your own eyes the quality and the difference we are able to offer you.
Bottom Brackets
GOLD RACE
bottom bracket stands out for its perfect
smoothness
due to the optimized design of its bearings and components.
The bottom is the core, the main part of the bicycle. Athletes know this very well, as they have to work much harder if this component doesn't work perfectly. Gold Race bottom brackets are compatible with all solutions on the market. Completely made in Italy according to the UCI strict regulations. Ultra-smooth and ultra-resistant bearings, thanks to the use of innovative metal alloys instead of traditional stainless steels. The bearings are completely sealed on both sides, in order to guarantee maximum efficiency even after many kilometers. All balls are processed in our laboratories by using dust and oils to remove the slightest remaining imperfection.
Derailleur Wheels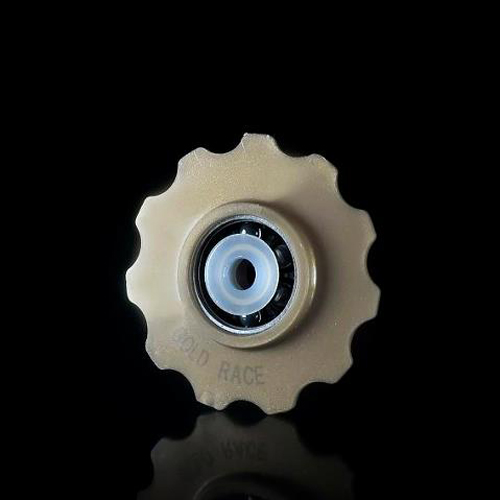 These derailleur wheels are universal and designed to be compatible with 10 as well as 11 speed. Balls are self-cleaning and no other mainteinance is required. The smoothness, unrivalled on the market, makes your bike faster, smoother and quieter.
Technical Oils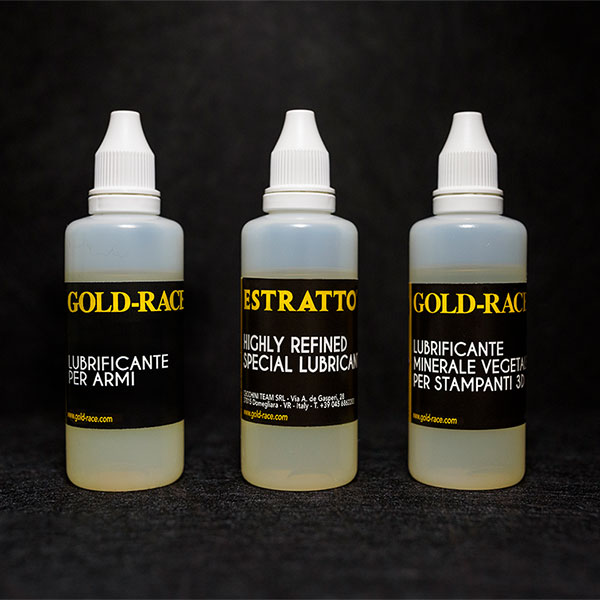 We would like to introduce you our "Gold Race" technical oils.
The lubricating oils that has conquered the Olympic world.
A mix of ingredients that are able to increase smoothness by reducing friction between materials.
For first installation and maintenance of our Gold Race bearings.
Available in three versions:
– for short tracks such as the prologues (yellow);
– for time trials/ medium distances (red);
– for long distances (green).
Bearings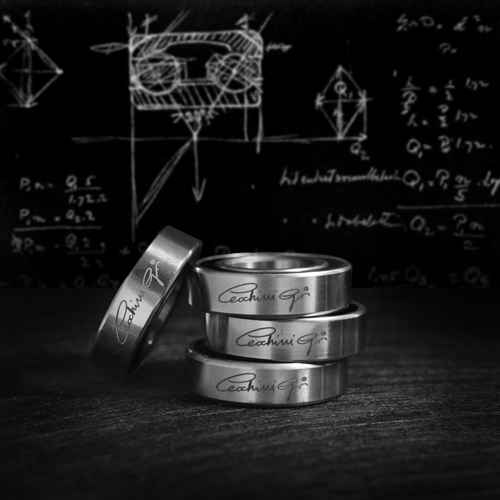 Ultra-smooth craftsmanship bearings made in Italy.
Thanks to the treatments, the materials and the applied technologies our bearings are unrivalled on the market. Ultra-fast and with a maximum weight of 1350 kg per square millimeter, they guarantee significant performance in all competitions.